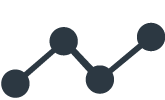 Increase customer base.
82% of business equipment is purchased with financing. Expand the number of customers who can buy from you simply by providing a financing option.

Increase purchase size.
Splitting an invoice into small monthly payments gives your customers purchasing power that allows them to buy additional equipment with the same budget.

Improve the customer experience.
Allowing clients a choice in how they'd like to complete their purchase provides much needed flexibility and increases customer loyalty. The more options they have to pay you, the easier the decision becomes.

Streamline your sales process.
Financing boosts your sales by integrating seamlessly into your existing process. Sales close faster and more efficiently when financing is offered.
How Triton Financing works.
Triton Capital's cutting-edge financing transforms your sales process by allowing customers to pay for equipment in small monthly installments.
See how much your customers will pay
Become an approved partner.
Integrate financing and send a referral.
Your customer gets loan approval.
"Never had I experienced such easy funding for a customer."
Financing solutions.
Grow your sales by providing simple and transparent financing for your customers. We offer an elegant customer experience with proven lift on top-line sales.
Get Started
Virtual tools.
Our online tools plug in seamlessly with your website, allowing you and your customers to get quotes and submit applications. You'll hear back about an approval within a few hours.
Get Started
White-labeled materials.
Empower your sales team and move more equipment. Instantly send an application to your customer's smartphone or computer and give them the easiest path to purchasing.
Get Started
"We've used other lenders in the past, but Triton's attention to detail and quick funding has really set them apart."
Small payments, more sales.
Use our payment calculator to estimate financing we can provide for your customers.
Have questions about how to get started?
Send us a message
We provide financing for a variety of industries:
Some of the basics:
How do I get paid by Triton Capital?

We pay our partners in full when customers purchase equipment. Whether you prefer wire, ACH, or overnight check, the choice is yours. Our goal is to get you paid, fast.

What happens if my customers don't pay?

Simply put, nothing. Triton assumes the credit risk from your buyers' loan performance so you can focus on growing your business.

What rates can I offer my customers?

Our equipment loan rates start at 5.99%, with most applicants qualifying between 5.99-10% fixed.

How do I start offering financing?

Submit your contact info here. You'll hear from us within a business day. We work hard to learn your business and your customers' needs, and develop a financing strategy that adds value to your sales process.

How do I tell customers about financing?

Triton offers sales support for both offline and online marketing. From promotional and digital banners to onsite trade show assistance, we partner with you to maximize your sales through financing.
We have a dedicated team in San Diego at Triton Capital HQ.
We're ready to help out and answer your questions however we can.