Triton Joins APPROVE, a Fintech Solution that Streamlines Equipment Financing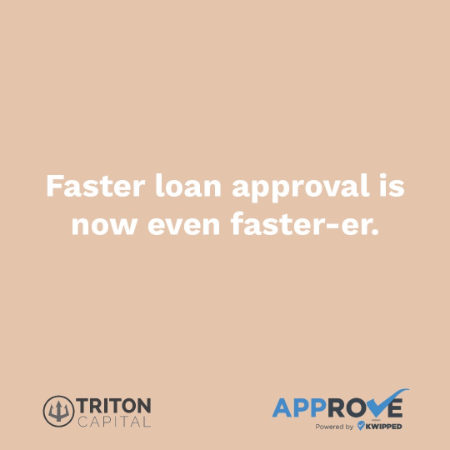 At Triton Capital, we are continually looking for ways to streamline the financing process to make it as easy as possible for your customers to get the equipment they need when they need it. That's why we're proud to be part of APPROVE, a new solution that matches buyer credit profiles with the most appropriate financing options—making financing easier for customers and increasing sales for equipment dealers.
The makers of APPROVE know equipment financing. The software as a service (SaaS) solution is offered by KWIPPED, a technology company specializing in innovative B2B equipment ecommerce, including an online marketplace of B2B equipment rental, leasing, and lease-to-own options offered through a large network of premier suppliers.
APPROVE leverages a digital quoting engine to promote equipment finance at every point in the sales process, making it easier for customers to start the financing process--and for dealers to increase sales.
"During our extensive pilot program, our data showed originations increased by 26 percent when financing was offered at the point of sale," says Robert Preville, CEO of KWIPPED. "The point could be on a website, a link on a product quote, email or text, in stores, or even a tradeshow floor."
APPROVE makes it easy to give your customers the best financing options available. Algorithms streamline the loan approval process by matching the customer's credit profile with the most appropriate finance option.
Triton Capital is just one of 17 equipment finance companies to collectively offer coverage across a wide spectrum of credit profiles and asset classes, ensuring a high rate of approval, regardless of your customer's credit standing. Triton alone offers both personal and business loans for some of the highest approval ratings of a single financing company.
APPROVE is a good example of how fintech is transforming financing. The efficiency and ease of use benefit both buyers and sellers of large equipment. Learn more about APPROVE.