Why a Remote Workforce Was Always a No-Brainer for Triton Capital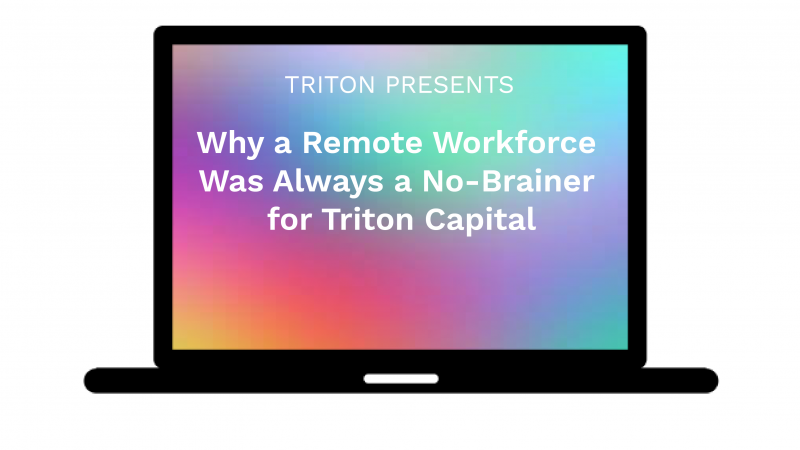 Hybrid and remote work are all the rage these days as companies figure out what the office looks like after a global pandemic. But there's a smaller portion of companies that were already remote prior to the pandemic. At Triton Capital, we recognized the benefits of a fully remote workforce early on and have set a higher standard for customer satisfaction as a result.
The concept of remote work and its benefits are not new. When Triton Capital was established in 2008 to provide small- and medium-sized businesses alternative sources of funding, there was no doubt in our minds that our business and customers would be best served by a remote workforce. Hiring remote workers enables us to expand our talent pool so that we can find the best people, regardless of location. It also allows us to grow rapidly so that we can maintain customer service levels as we continue to grow.
Of course, we aren't alone in realizing the benefits of a remote workforce. But prior to the pandemic, the majority of companies continued to emphasize the importance of coming into the office for work. Tech companies like Google poured big money into building out literal playgrounds in the workplace, complete with slides and climbing walls. The goal was to make work an attractive place to be so employees wouldn't feel the desire to leave after an eight- or nine-hour workday.
When the COVID-19 outbreak was declared a pandemic in March 2020, those companies had no choice: enable employees to work from home or close-up shop completely. Over the following months, companies enabled employees to work home. It wasn't long before employees became accustomed to the new norm. It turned out, many of them appreciated the relative peace and quiet of their own home versus the office. They embraced the extra time afforded them from not having a commute. And despite the stressors of the pandemic, people got work done.
Fast forward to 2022, and now many of those companies are grappling with how to entice employees out of their safe, comfortable homes back into the office. Starbucks CEO Howard Schultz reportedly pleaded with non-retail workers to get more of them into the office. But the cat is out of the bag: employees know they can work as effectively and efficiently (if not more so) from home than at the office. And as more companies accept this reality, there's less incentive to stay with a company that forces its people to come into an office.
Meanwhile, companies like Triton continue to operate with a distributed team of employees who are engaged in and satisfied with their work and are productive and happy. We strongly believe that the satisfaction of our employees is key to delivering superior service to our customers and partners, and that's what we're all about at Triton. And you can rest assured, you're getting the best loan terms available because we've eliminated frivolous overhead. We invest in people – our customers and employees – not crazy adult playgrounds.