What is Embedded Financing? An Introduction for Equipment Dealers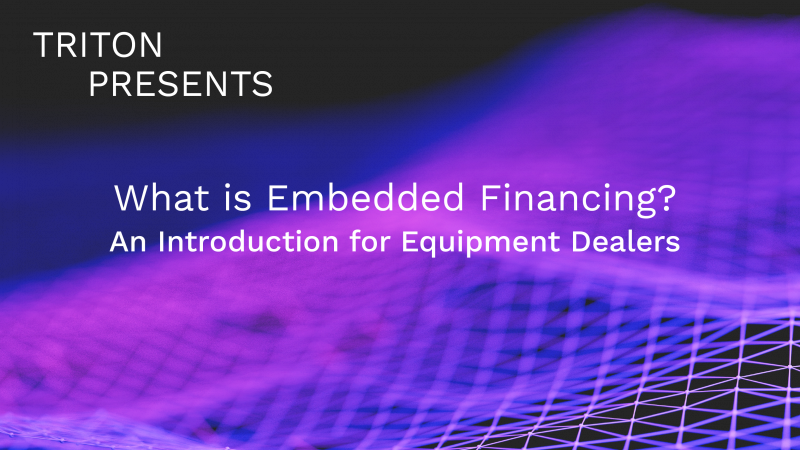 Technology continues to transform businesses, enabling them to establish new lines of revenue and operate more efficiently. One such trend is embedded financing, which enables any business to become a financial services provider. Let's look at what embedded financing is and the opportunity it offers equipment dealers.
Embedded finance is when non-financial companies (like equipment dealers) offer financial services. It is a form of in-house financing that's delivered via technology, often by a fintech company.
Embedded financing is important because it changes when, where, and how customers obtain funding. Financial services are offered seamlessly in the buying journey of non-financial products or services, making it easy for customers to get the funds they need when they need them. There's no need to go to a physical bank branch to apply for a loan. Customers can complete a purchase and get the financing they need all in one place. As a result, embedded financing removes some of the pain points that can get in the way of a sale.
Embedded financing is gaining popularity for a variety of reasons. First, it eliminates the need to build a finance business from scratch. With embedded financing, just about any business with a website can offer customers financial services at the point of sale. In a sense, embedded financing allows businesses to outsource the financing function. But the technical aspect enables you to white label and integrate the infrastructure right into your website, so the customer has the sense that they're working with your business throughout the buying journey. (Note: this is why it's incredibly important to choose a financing partner that values customer support as much as you do.)
Embedded financing is also popular with customers. According to McKinsey, "Customers increasingly seek simple, holistic, embedded, and direct experiences." After all, why go to the bank if you don't have to?
But there's more to it than convenience. McKinsey's research also shows that in the United States, incumbent banks have lost the trust advantage that they had over financial technology companies. This is huge, and it's not likely to change anytime soon. In fact, customer trust in fintech companies is poised to grow, as fintech companies often offer more favorable terms and a more efficient funding process than traditional banks. By addressing the pain points associated with the lending process, fintech companies are increasingly seen as an ally seeking to help consumers rather than benefit from them.
When we talk about in-house financing enabled by Triton, we're actually describing embedded financing. Our platform easily integrates with your website to streamline the financing process for you and your customers. We also value our relationship with you and make it a goal to maintain your trust and your customers' trust by delivering customer-centric support that's flexible and responsive.
One final stat that has us blown away: According to Oracle, "The rise of embedded finance represents a massive new opportunity – an addressable market opportunity estimated to be worth over $7 trillion in the next ten years, twice the combined value of the world's top 30 banks today."
Embedded financing allows equipment dealers to take advantage of these trends. It is an opportunity for you to leverage and further build customer trust and, by extension, customer loyalty. We'd love to help you. Contact us at info@tritoncptl.com.