What is In-house Financing? An Introduction for Equipment Dealers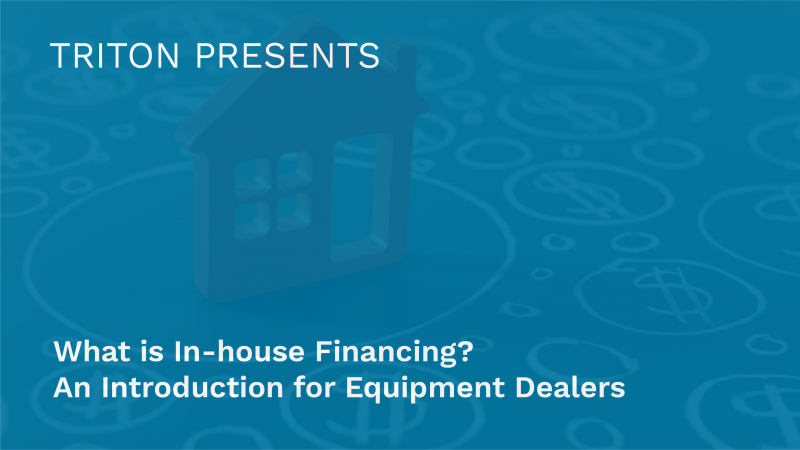 We talk a lot here at Triton about the value of in-house financing and the benefits to both equipment dealers and their customers. It's likely you're familiar with this type of lending and may have even used it. But what exactly is in-house financing, and perhaps more importantly, why should equipment dealers care?
What is In-house Financing?
In-house financing refers to lending services provided onsite by a retailer – in our case, an equipment dealer. A common example is the financing offered by auto dealers. Instead of getting an auto loan from a bank, customers can borrow money from the dealership itself. The dealership profits from the sale of the car as well as the loan. Customers benefit from the convenience of applying for a loan at the same time and place they're making their purchasing decision. Customers may also have a better likelihood of being approved for a loan via in-house financing since the dealer may have less rigorous loan approval requirements as compared to a traditional lending institution.
In-house financing can increase your bottom line and improve customer loyalty. But is it worth the effort? According to the Equipment Leasing and Finance Association (ELFA), equipment finance will play a significant role in the growth of the U.S. economy this year. The ELFA reports, "Based on historical precedent, more than half of equipment and software investment this year will be financed. In addition, inflationary pressures that drive equipment prices higher will make financing more desirable with payments spread out over time."
How to Offer In-House Financing
Equipment dealers have a couple different options when it comes to offering in-house financing. Dealers can build their own lending operations from the ground up. This essentially requires dealers to establish another line of business – and accept all the risk and overhead associated with it. This includes building out the infrastructure, managing credit/collections, hiring the right team, building the technology, and more. In today's dynamic market, few dealers have the resources or the risk appetite to go this route.
Fortunately, fintech companies like Triton offer another option. We essentially enable you to outsource your in-house financing function. Thanks to technology, we can seamlessly embed our financial tools and services into your website. This is similar to the buy now, pay later (BNPL) financing options you may have seen on ecommerce sites. The financing option is available at the point of sale (and in your showroom), enabling customers to secure financing and complete their purchase all in one visit.
Partnering with Triton delivers all the benefits of offering in-house financing without the risk. Equipment dealers are paid in full at the time of loan funding, and they earn a commission off the sale. Because we're experts in financing equipment loans for small business owners, we can offer competitive terms with faster approval times. But it's not just about the logistics that make in-house financing with Triton a better approach.
By using technology to streamline the financing process, we enable our people to focus on your customer. In fact, we're so dedicated to our partners' customers and delivering consistently superior service that our client advocates do not earn commission. This means they can focus on what's best for the customer and not their personal bottom line. And because the service is "white labeled," the benefits and service are a reflection of you — the equipment dealer. We do the hard work and you get all the kudos.
When it comes to purchasing equipment, the traditional mindset of paying cash in full at the time of purchase is starting to fall out of favor. In-house financing makes it easy for your customers to realize the benefits of funding their equipment purchase with a small business loan. Partnering with Triton makes in-house financing a no-brainer for equipment dealers.