Equipment Dealers: Break Through the Cash Mindset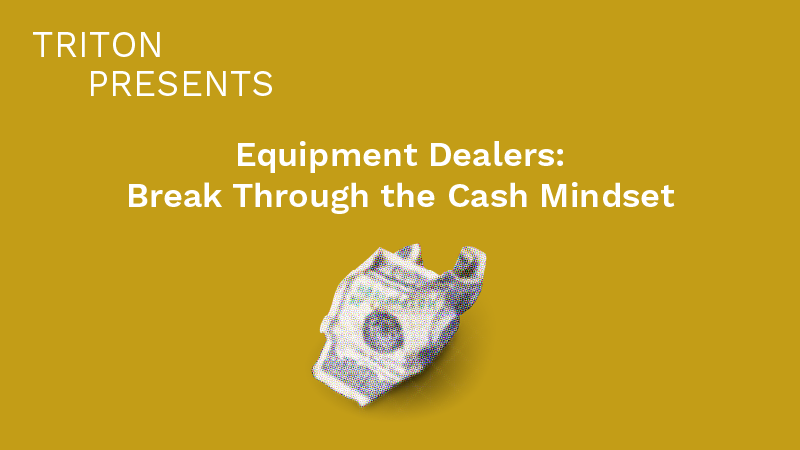 When it comes to buying a new car or home, most people don't think twice about taking out a loan. But when it comes to equipment, the traditional mindset – you pay in full at the time of purchase – continues to prevail in some regions of the country. Financing is gaining momentum in all areas of life (think Buy Now Pay Later) but, in the meantime, equipment dealers may need to educate customers on the benefits of paying for equipment with a small business loan versus a lump sum of cash.
The same reasons financing has become an acceptable means of purchasing a car or home also apply to financing equipment. Here are a few examples:
Two words: Zero down. Emergencies happen. It doesn't matter how much is in the bank account, equipment breaks down and business takes unexpected turns. Financing 100% of a purchase enables equipment buyers to address unexpected needs without disrupting the business or missing new opportunities.


Financing allows the buyer to save cash that can be used for other expenses. Equipment buyers can invest in other areas of the business — perhaps hiring seasonal help or purchasing new software to run the business. Or they might continue to save it for peace of mind. The point is, they have that flexibility while also benefiting from a predictable monthly payment.

With financing, buyers can afford more bells and whistles. Paying cash for a new car may afford you the base model, but with financing, you can afford a higher trim level with alloy wheels, LED headlights, and heated seats. The same goes with equipment. A small business loan can open the door to newer and better, including features and capabilities that can save time and money down the road.

Financing accelerates the return on investment. It's much easier to see a return on a monthly payment than it is the lump sum of a purchase. Financing allows buyers to make smaller payments while generating revenue.

The benefits of financing equipment can easily be worked into a sales conversation on the showroom floor, but it's also helpful to reinforce these messages in your marketing efforts. Equipment Finance Advantage has a free PDF and JPEG you can download titled 8 Reasons to Finance Equipment for Your Business. Use the JPEG on your website or print and frame the PDF to hang in your sales office.
Financing a major purchase like business equipment simply makes good business sense. In regions where buyers are still in the cash mindset, dealers may need to remind customers of the financing benefits they're already taking advantage of in other areas of life. But it won't be long before financing a wheel loader or truck is as natural as financing the family car. Equipment dealers that offer in-house financing today will be ahead of the pack.
Not yet offering in-house financing but interested in learning more? Contact us at info@tritoncptl.com to learn how easy it is to get started.