Five Questions to Ask a Potential Financing Partner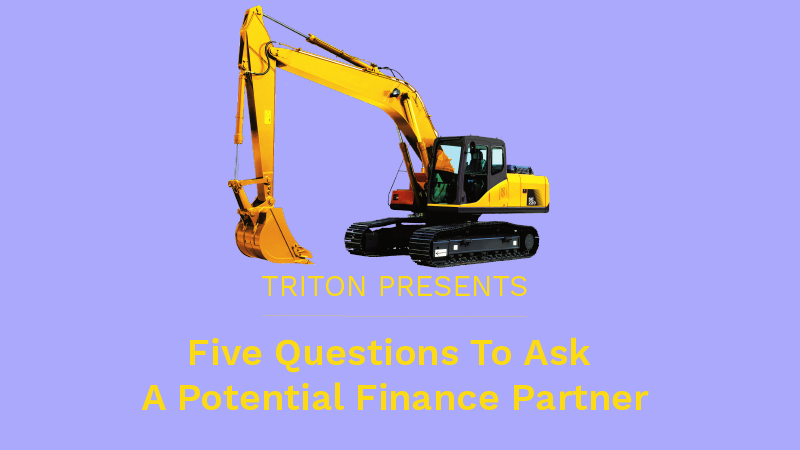 Offering financing to small business customers can be a competitive differentiator for equipment dealers and suppliers. In-house financing can improve the customer experience while enabling you to increase sales and close more deals faster. However, financing partners are not all created equal. The wrong financing partner can impact customer service and hurt sales. When selecting a financing partner, ask these five questions to determine whether the lender is a good fit for you and your customers.
What is your loan approval rate?
You've worked hard to earn your customers' trust. In addition to providing top-quality equipment, they trust you to provide the highest likelihood of loan approval—after all, you both have a mutual goal: you want the sale as much as they need the new tractor or industrial stove.
Ask potential financing partners about their loan approval rate. How do they ensure your customers get the highest likelihood of approval? Do they offer both personal and business loans?
How many lenders will contact my customers?
No one likes to be bombarded with sales calls, even when they're in the market for the product or service actively pitched to them. While it's ideal for your financing partner to have access to a marketplace of lenders, make sure that each of those lenders isn't given a free pass to reach out to your customer directly. This will quickly frustrate your customers. Instead, the financing partner should serve as a single point-of-contact to your customer and help vet the loan offers on your customer's behalf.
Do your people work on sales commissions?
When the financing partner's people work on sales commissions, their focus is on their own bottom line – not on getting the best deal for your customer. Look for a financing partner that has your customer's best interests at heart. The partner should work as an extension of your team, helping to close deals and support the customer's purchasing decision. Oh, and if anyone gets a commission, it should be you.
What can I expect when working with you?
The financing partner should be easy to work with. For example, white-labeled digital tools like financing applications and payment quote generators should seamlessly integrate with your website. Flexible and responsive support available by text, email, chat, or phone, ensures that both you and your customers get the answers you need when you need them.
How do you specifically meet the needs of the small business applicant?
The best financing partner understands your customers' needs and concerns as small business owners and designs the financing process accordingly. For example, by pulling soft credit inquiries, the lender avoids impacting the applicant's FICO score. The financing partner should also understand that small business owners need their equipment today—not next week. The financing process should be fast and convenient, with funds delivered within hours.
At the end of the day, the financing partner you select is a reflection of your business. Choose a partner who will work for you and your customer. The questions above will provide insights to how the partner has built their business—with a focus on your bottom line or theirs.
Learn more about partnering with Triton Capital.